I don't know much about good food writing, but I know it when I see it, and the paperback I just finished contained some of the best consecutive pages of writing I've read this year. I never left the book alone. I tied it around my wrist like a friendship bracelet. It was threaded with three of my favorite things in life: language, memory, and food. When it was time to dog-ear a page, and I could afford the minute, I would stare at the cover in a moment of digestion, much like the way one might need a walk after dinner, and in my head, hand it to the author for the distinctive, nearly flawless way in which she traversed themes. She did it so well. And whenever I read books this good, this appetizing, I just want to run away. Cook and write.
I judged a book by its cover and took home a dark and stormy stack of pancakes in a syrupy downpour of butter, stuck in time for only the hungriest of book buyers. It was called Blue Plate Special. I'd never heard of the writer. Still I managed to lick the autobiographical account of a stranger's years clean, sections of life's time marked by location, chunked like potatoes. A story lit up by the backdrop of appetite, from a soft-boiled egg and buttered toast crumbs in the writer's childhood kitchen in Berkeley, C.A, to hummus sandwiches and chocolate bars on a cold, windy mountain in Glacier National Park, to heartbroken plates of green curry in Greenpoint, Brooklyn. Her words kept filling me like an actual meal, only these I couldn't keep from stealing bites from beneath the tinfoil.
Knowing what other people are eating is really satisfying for me. I think back to my waitressing days at Judie's, home of the popover, in Amherst, M.A., and the intense satisfaction that would slowly soak me like sponge cake after writing down someone's order. I never knew what that feeling was all about and I still don't, but I don't always let myself eat everything I'd like to eat, so maybe the cravings got put to bed that way. And it was an easy way of connecting with someone without the pressure of having to be their friend afterward. I still love asking Michael what he ate for lunch, even if it's an answer as simple as "soup" or "salad" but one day I'm hoping he'll feed me a rich Blue Plate Special-esque description where lunch was "bean burritos fried in plenty of vegetable oil, enormous flour tortillas wrapped around mounds of grated cheddar and dollops of canned refried beans -- big, crisp, savory bundles of fat and carbohydrates." I love swooning over food almost as much as I love eating it.
I read and reread lots of paragraphs throughout the book. One that sticks out is the description of the New Years Day parties the writer would throw with her ex-husband. He took on the two roasts and a glazed ham, and she'd make the sides: "a huge pot of hoppin' John -- spicy black eyed peas with long-grain rice and andouille; two trays of oozing mac and cheese with a crusty top; collard greens stewed in cider vinegar and lardons; and jalapeno cornbread with a honey glaze."
Starting at four o'clock, our house began to fill with people and music and cigarette smoke; someone always lit a fire in the living room fireplace. People brought desserts, liquor, interesting presents. Often, later on, we all danced.
I wanted to be at this party, with this person, these people, this house of delicious happy so incredibly bad that the only way I could think of getting myself there was to attempt her recipe for hoppin' John. A dish I had never heard of because I'm not from the South, but as it turns out, a dish that is said to bring good luck if you eat it on New Years Day: the black-eyed peas depict pennies, and the pork suggests optimism because pigs forage forward, never looking back. We may be six months in, but I can always use some good luck, and there's nothing wrong with cooking up a piggy-flavored pot of bean stew. And the act of making it -- all that chopping and stirring and tasting -- made me feel like a real-life friend of the writer. I guess sometimes, if I really like what you've ordered, or how you've ordered it, I will want to be friends afterward.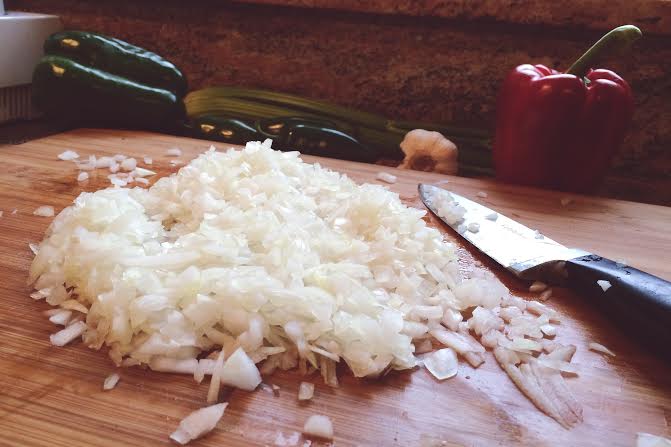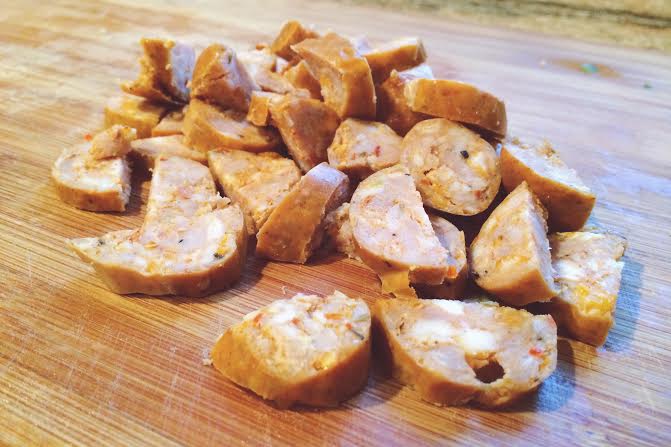 The recipe for hoppin' John taken directly from Blue Plate Special by Kate Christensen.
Saute 1 chopped onion; 2 ribs celery; 1 each green and red pepper, chopped; and many cloves of minced garlic in plenty of olive oil. Add while it's all cooking generous dashes of cumin, paprika, salt, pepper, thyme, as well as 2 chopped jalapeno peppers and a bay leaf. [Note: I didn't have a bay leaf.] Add two chopped turkey andouille sausages and saute until everything is fragrant and soft. [Note: I used smoked pork and chopped four of them.] Add 2 cups of chicken broth, a can of diced tomatoes, several shots of Tabasco [Note: I used Gator Hammock Gator Sauce], 2-3 cans of rinsed black-eyed peas, and 1/2 cup long-grained white rice. Make sure there's enough liquid to cook the rice and have it wind up just a tiny bit on the soupy, rather than dry, side. Taste -- adjust seasonings -- cook until rice is soft. Serve with Tabasco.