Saturday night after the rain, as I tuned in to the preparation of these beets, Michael sat on the couch sifting through sleeves of yesteryear's photographs. Every so often I would stop dicing to take a peek at the old NYC skyline or to see him posed with two monks on a trip to China or to glimpse the koi pond his dad built in the backyard of their old house on Gerritsen Avenue. We were hours and hours into the holiday weekend so the night felt more like a Friday night, hugging the sanguinity of not having to meet Tuesday so soon. Sunup saw us reaping the benefit of a good night's sleep, feeling rested and awake enough to watch morning movies with small onion rolls with butter and jelly, napkins, and large coffees. After lounging through Bad Boys 2 and 21 Jump Street (because I'm the good wife) with a head against his shoulder, we dressed and walked 3rd Avenue into Sunset Park on a wood flooring and kitchen/bathroom tile mission that had me daydreaming of doing unremarkable but rewarding things like writing letters to friends with new babies in front of windows or using two hands to open the french doors of a refrigerator to see a drawer stocked with cheese. The sun shone until clouds, drenched grey, began to brush the sky faster than we could cross streets. We followed the speaker blasts of Latin music up 46th street, hoping for a greasy party but of course unfazed when we uncovered the normal Saturday soundtrack of a car wash, then collapsing into a lunch of chorizo nachos and soft tacos at Tacos Matamoros where Michael caught that important soccer game and I took iPhone pictures of the food. When the game went into overtime, I asked Michael how to say "can I take your picture?" in Spanish so I could snag a picture of the guys behind the counter, the guys making tacos, without looking weird and sneaky. A long shot since I moseyed back to our table feeling extra weird, just a little less sneaky.
It would have been optimal to walk back to Bond Street but the rain had begun so we caught the B63 down 5th Avenue and walked back from 3rd Street, stopping off at Whole Foods to grab six beets and their leaves for me and a container of cut watermelon for Michael. I thought this beet recipe would take no time, but it took time, the good kind of time, the time that keeps a good day moving along, with no rush to finish and no reason to stop. I wanted to study the old picture of Michael standing next to an antique apple press on his grandparents' farm wearing short shorts and a white collared shirt buttoned all the way to the top, but the beets were staining my hands and I knew the picture wasn't going anywhere. Neither was the day, neither was Michael. Or so it felt.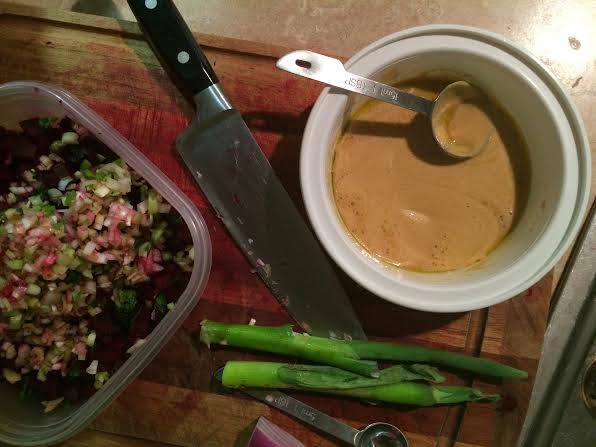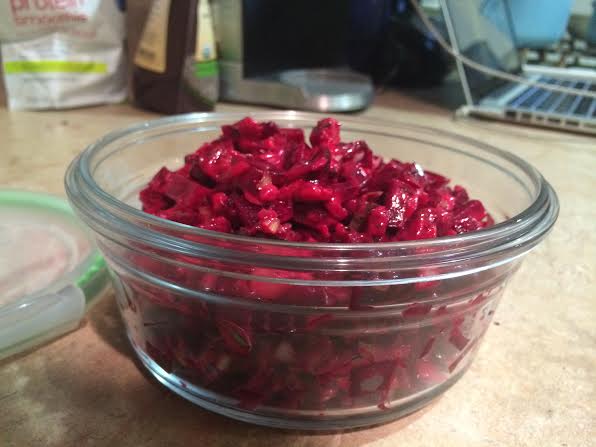 Adapted from Food52's Community Pick Recipe for Beet Tartare with Dijon and Capers
Ingredients:
(Serves 4 as an appetizer)
6 beets, roasted, peeled, and diced
2 tsp capers
4 tbsp red onion, minced
4 tbsp parsley, minced
6 tbsp scallion, minced
3 tbsp dijon
2 tsp red wine vinegar
2 tsp worcestershire
2 tsp olive oil
Method:
Wash the beets, then wrap them loosely in tin foil and place on a baking tray to roast in the oven at 400 degrees for about an hour. Let them cool for a bit. Take a paper towel and scrub the skin away, staining your hands in the process. Dice the beets and set aside.
In a small bowl combine the remaining ingredients. Pour this over the beets and mix well. Serve on crackers or toast or bagel crisps with a schmear of camembert. I was going to go the goat route but shied away from it to please someone else. The camembert was a great substitute and I would use it again.