A couple of weekends ago, I packed a bag and some cough drops and escaped New York for Denver, a state that looked to be one week ahead in terms of sunshine, the warm kind. You could say it was a perfectly timed trip in that it was the absolute right instant to ditch everything here -- the cherry raw winds, the fluctuations of mood, the inhuman squeeze onto trains – but it's not like I went out there and hiked the Rockies with a CamelBak. No, the weekend visit to a favorite faraway friend took a turn for bad health (and this time it had nothing to do with smoke). My New York cough had spiraled into a legit sick and so thank god for my friends' wide couch and world's softest blankets because that is where I spent most of my time and within a weak arm's reach of the tissue box and mugs of hot.
But there were a few things I couldn't let slide, no matter what, and they were: talk time in the backyard and/or front porch (a shared Google doc of "things to remember to discuss" had been purposefully typed up days prior), the preparation of some sort of homemade food (between the number of links to recipes we email each other, it'd be a shame not to put one to use), and the unleashing of 70-degree dry heat all up in my face (and all the while New York was getting rained on, even better).
So, wrapped in a blanket and wearing sunglasses, I followed my friend, who carried with her a cutting board, out into the backyard sunshine. In alphabetical order, she plopped down the basil, garlic, olive oil, pepper, salt, tomatoes, and vinegar.
"Bruschetta," she said. "It's all I eat."
If there's one person I feel like I've grown as a home cook alongside, it's this particular friend of mine. The one halving tomatoes and mincing garlic effortlessly while listening to, understanding, and making sense of item A on the shared Google doc.
About seven years ago, the two of us read our first Real Simple magazines before boarding a flight to Santa Barbara. We were visiting a guy friend, one who lived with his own guy friends amid their very guy-like things (video games, bathroom Maxims, forgotten bottle caps, hot sauce and salsas) and while we'd prepared ourselves for the onslaught of many grilled meals, we knew we would have to come bearing ideas for greens (and not the ones that go up in smoke). At the back of the magazine, Real Simple had a salad recipe that mixed tuna, white beans, pickles, and red onion together. Whew, OK, we had this. In the boys' California kitchen, we cobbled these ingredients together, together, step-by-step, recipe direction by recipe direction, exact tablespoon of olive oil by exact tablespoon of olive oil, until we knew we'd found ourselves a new leisurely pursuit. Look, Ma! We're cooking! In California!
I watched my friend cut and slice, chop and mince, and measure without measurement. Maybe it was the sick talking, but suddenly I felt so proud of her. Of me. Of us! We'd come such a long way from Real Simple recipe tear outs, and I'd literally come such a long way. It didn't matter how physically awful I was feeling all the way out in Denver, I was just happy for it to be a cutting board, and nothing else, separating me from an old cooking buddy.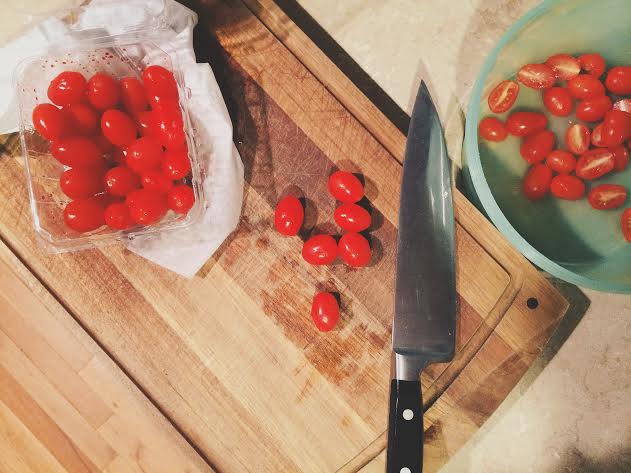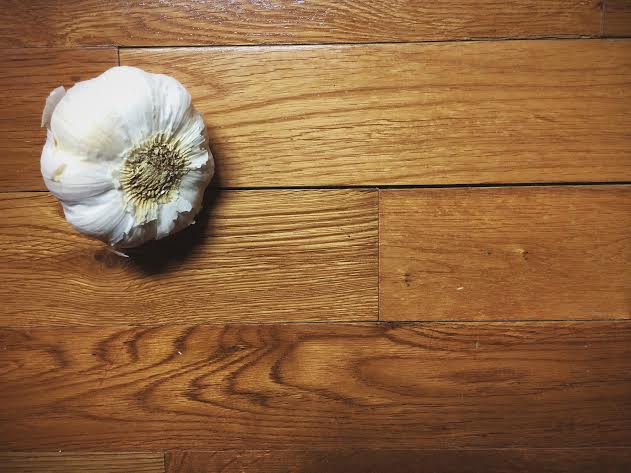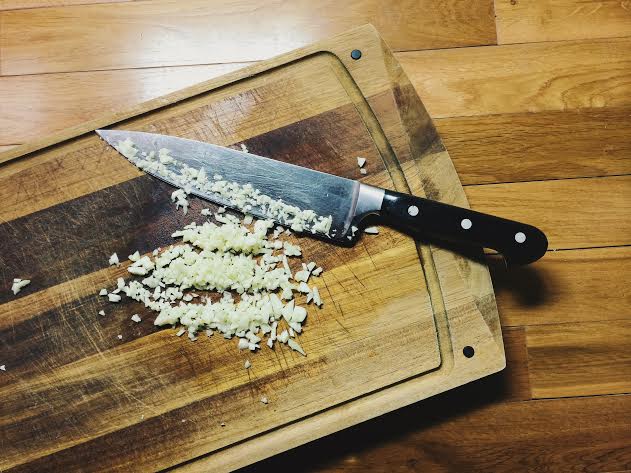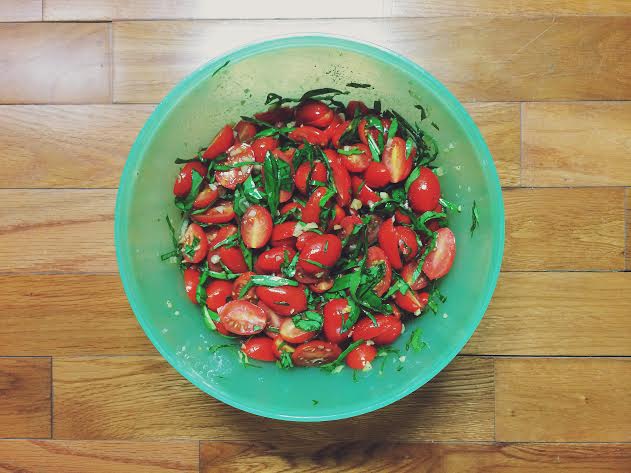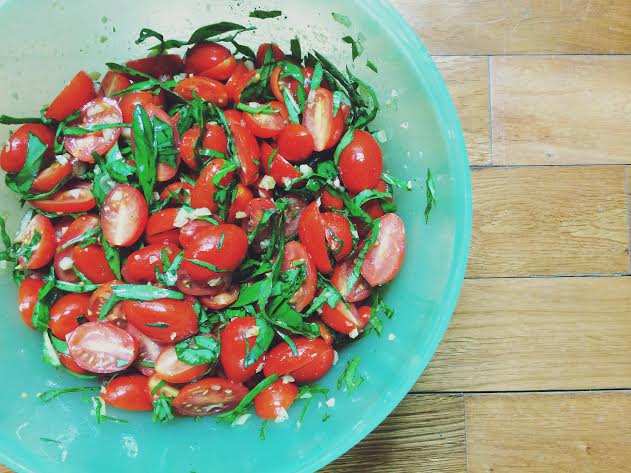 Ingredients:
(Makes enough to keep for the week.)
• 15 basil leaves, rolled up and sliced lengthwise
• 6 cloves garlic, minced
• 2 tbsp. olive oil
• Pepper, sprinkled
• Salt, sprinkled
• 1 ½ cup cherry tomatoes, halved
• 1 tbsp. balsamic vinegar
Method:
Combine the ingredients in a bowl, except for the garlic. Sauté the garlic in an olive-oil pan over medium-high heat for 1-2 minutes until fragrant, not burnt. Pour it over the combined ingredients. Refrigerate. Later on, eat with goat cheese and crostini.